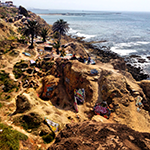 The Sunken City: San Pedro's Atlantis
Locals call it the Sunken City: A part of Point Fermin that literally slid into the ocean in the 1920s. What remains today are housing foundations, railroad tracks and amazing street art.
Doumees: Koreatown's Underground Service After Darks
People, both male and female, can pay for an escort-like service called Doumee in Koreatown. Doumees can earn well over $1,000 in one night, by partying or spending quality time in Koreatown's bars, karaokes and cafes.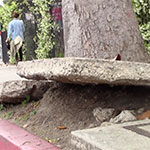 By JJ Maldonado
The black paint absorbs quickly onto his paintbrush. The wall is his canvas. Black is his base color, which is quickly transformed into a blue and purple like haze. What started out as a graffiti covered wall was turned into an abstract cosmic painting, with stars and birds flying across the canvas. Heng Leng was just one of the artists invited to join Muralist Ruben Soto as he touched-up and repainted his "Eyes Mural".
There are many buildings in Los Angeles decorated with the paintings of past and present muralist of the city. The mural, "Peace Goddess" by Shepard Fairey peers out pensively into the Arts District; a location where murals are painted freely.
However, it wasn't always like this. The revival of street art in the form of murals is making its way back into the communities of Los Angeles.
"It's really a great tool too bring the community together, but also to really to tell the story of the community and the town and really set it apart," Biate Kimson, a San Pedro resident, said.
Los Angeles has been the home of many murals since the 1920s. Murals once flourished in the city, and were even a big fixture for events, such as the 1984 Summer Olympics. In 2002, the City of Los Angeles passed an ordinance banning the creation of murals. The city's ban was an effort to stop the increase of commercial signs, also known as advertisements. Eleven years later, the ban was reversed and the language of the law amended.
One of the reasons the city removed the ban was to preserve the existing murals. Murals display a rich history and culture of a community. The artist who created them or the Mural Conservancy of Los Angeles preserves some of these murals.
Ruben Soto and his group of friends are just a few artists who work at preserving the history of murals.
"I really just tried to create something that would support Ruben's work," Heng Leng said.
Soto says he maintains the mural himself with the help of the city when there are issues dealing with graffiti.After a mural is painted, a wax is used to protect the mural from graffiti or sun exposure.
"This last time we've used this wax, if there is any graffiti the city would come and clean it up," Soto said.
Soto's passion for painting isn't cheap. He says murals are expensive on the salary of an electrician.
"Maybe there are grants out there, but it's such a hassle for me personally," Soto said.
At a public discussion in April, San Pedro residents gathered to discuss how they could create more art in their community.
The meeting, "What Makes a There, a Here" is first in a series of meetings to help the community understand mural ordinances and how to initiate projects to create San Pedro Murals.
"These efforts not only support local artist, but local business owners and involve community beautification and place making," Heather Anderson, city planning deputy, said.
Anderson spoke on behalf of the Councilman Joe Buscaino, and said he supported the creation of new murals in his district; which includes San Pedro, Watts, Wilmington, Harbor Gateway and Harbor City.
Along with creating a better community environment other topics were funding, community arts programming and arts projects.
"The key to success is not just one project, but changing these projects into programs," Markus Tracy, teaching artist, said. "Where there are long-sustaining programs that continue."
Tracy said these projects could turn into teaching opportunities. He has helped over 100 schools infuse art into core subjects such as math and science.
"There is a connection, an arts connection," Tracy said. "I had a team of artist and educators work together on how we could implement this with mural programs."
Tracy also suggested ideas on funding, such as the Local or Federal Arts Council and the National Endowment for the Arts.
Just five months ago, the communities of San Pedro and Wilmington were awarded more than $500,000 in grants to 19 organizations from the Harbor Community Benefit Foundation.
The grants were awarded to local organizations such as Rainbow Services and Sharefest Community Development, which were awarded $22,000 and $45,000 respectively. Both organizations were chosen to be awarded for the development of murals.
Rainbow Services is part of a network that aims to keep families safe by helping women and children who are at risk of domestic violence. The grant donation will assist in the Community Arts and Beautification Project, which include the installation of a hand-painted tile mural. Rainbow Services' child enrichment program helps children recover from family violence and to help their families regain stability. The enrichment program's curriculum includes arts and crafts, which it says promotes healthy growth and development.
Private organizations aside, Isabel Rojas-Williams, executive director of the Mural Conservancy of Los Angeles, said money for public murals is sparse.
"There's never money for the arts," she said.
A mural's price tag can vary depending on the size of the mural, the building where the mural is painted and the caliber of the artist.
"Murals, they fade," she said. "And every 10 years they need to be restored."
Murals are traditionally considered paintings on a wall, however, a new form of street art is the painting of utility boxes on street corners. Rojas-Williams believes this is a non-traditional definition of a mural, but that it brings art directly to the streets of a community.
"In so many communities such as Wilmington and hopefully in San Pedro it helps bring themes and issues that are related to that community," she said. "The kids who may walk by say, 'Oh there's Malcolm X or there's Cesar Chavez'. It can bring a piece of history to the streets."
The history of LA could also be seen in the murals that currently exist. This summer the Mural Conservancy of Los Angeles will restore the 1984 Olympic murals in time for its 30th Anniversary. Restoration of these murals to commemorate the games has already begun.
In addition to community discussions, educational programs and city beautification murals could paint the cultures of the community, which are just as diverse as the colors used in murals.
"Murals are narratives, they are open books," Rojas-Williams said. "When you look at the mural and you can read the story of your community that's a mural."